Weekly Services
THIS WEEK'S SCHEDULE OF SERVICES & EVENTS
Saturday, February 25 Saturday of Souls/Romanian Liturgy
Divine Liturgy 10:00 AM
Great Vespers 6:00 PM
Sunday, February 26 Orthros 8:45 Liturgy 10:00
Monday, February 27 Great Canon I 5:30 PM
Tuesday, February 28 Breakfast Fellowship 7:30 AM
Adult Ed Group 11:00 AM
Great Canon II 5:30 PM
Wednesday, March 1 Presanctified Liturgy 9:30 AM
Great Canon III 5:30 PM
Thursday, March 2 Great Canon IV 5:30 PM
Friday, March 3 Salutations 7:00 PM
Saturday, March 4 No Great Vespers
ANNOUNCEMENTS
· Please join us for refreshments in the coffee hour room right after church.
· Greek School Registration Begins Today! -- Be sure to stop by the display table in the parish hall to learn more about this opportunity that will begin March 19. Three teachers from Charlotte will facilitate the classes each Sunday from 2:00 - 4:00 pm for a spring short-course, to begin our instruction and to get us ready for classes to proceed in the fall for the new school year. Course options will be available for youth and adults. Registration, fees, and other details are available and must be completed prior to March 12 on a first come, first served basis.
· St. Katherine's Philoptochos will begin our membership drive, collecting dues of $30 for the 2017 calendar year after Liturgy today in Coffee Hour. We invite all women of the community to join us at our next General meeting on Tuesday, March 14 - 6:00 pm social time and 6:30 pm meeting time in the coffee hour room. If you have any questions about Philoptochos, contact Elizabeth Render at 783-8826.
· Philoptochos will be making Spanakopita this Monday from 9:00 am – 2:00 pm for the Spring Bake Sale.
· "With Pain & Love for Contemporary Man" by St. Paisios will guide our discussions in the coming weeks. Join us for Breakfast Fellowship on Tuesday at 7:30 am or for Adult Fellowship at 11:00 am.
· Junior Choir practices this Wednesday, at 5:45 pm.
· Bible Study at 6:15 pm in the church immediately following the Great Canon III service at 5:30 pm.
· Adult Choir practices this Thursday at 6:00 pm.
· Save the Date: March 10-12 the Reverend George Dragas, Professor of Patristics at Holy Cross will be at Holy Trinity in Columbia to lead us in a Lenten weekend. Be sure to mark your calendars now.

Liturgical Guide

Monthly Bulletin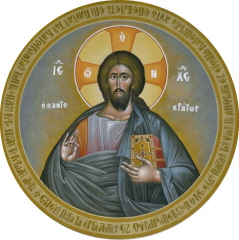 The Adornment Of Our Beautiful Sanctuary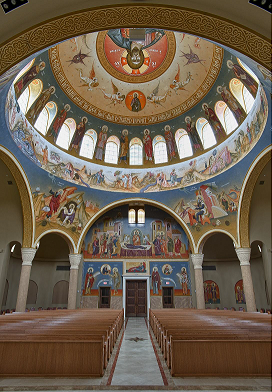 Cathedral Iconography