Weekly Services
This Week's Schedule of Services and Events
---
Sunday, May 20 8:45 AM Othros
10:00 AM Divine Liturgy
Monday, May 21 Constantine & Helen, Equal-to-the Apostles
9:30 AM Divine Liturgy
Tuesday, May 22 7:30 AM Breakfast Fellowship
11:00 AM Adult Fellowship
Wednesday, May 23 5:30 PM Paraclesis
Saturday, May 26 Saturday of Souls
9:30 AM Divine Liturgy
6:00 PM Great Vespers
---

Announcements

TODAY is the Awards Sunday/Senior and Greek School Recognition.
Hope and Joy Group will meet on Saturday, May 26—-12:30 PM at Cottle Strawberry Farm, 2533 Trotter Rd, Hopkins, SC. Pick your own strawberries! Cost of 1 quart per child will be covered. Available for additional purchase: $4/quart $12 /gallon. We will begin with a picnic lunch together that will be provided. Please RSVP to Fr. Chrysostom (chrysostomsc@gmail.com) so that food accommodations can be made.
Vacation Church School will be held from June 11 through June 15, 3:00 to 6:00 PM. Registration sign-up begins today.
2018-18 Greek School Registration is now open until the end of May. Sign up during Coffee Hour or email mariashelley@bellsouth.net.
ALL CALL FOR GENTLY USED T-SHIRTS: The festival T-shirt committee would like to recycle your T-shirts in a creative way. Please call the office if you have some to donate. Stay tuned for the results and thank you for your support!
Memorial Service for all Veterans of War who died in service or who have served will be held next Sunday, May 27th. Please join us!
"Listen" Audio Devices – It appears that several of our audio devices that we lend out during services have gone missing. We are missing about 6 of these. If you accidentally took one home, please return it. We are also ordering some additional devices that can be borrowed during services, but if you wish to purchase one as your personal device to keep, the cost is $60.00. Just let a Parish Council member know or contact someone in the book store. We will also be implementing a new check out process for the devices so that we can keep better track of usage.
Iconography Campaign: Reminder that the campaign has offered a 20% discount on any item priced over $10,000 if paid in full by the end May 2018. If interested please contact Father Michael, Father Chrysostom or any Parish Council Member.

*Also remember that any amount contribution collected will be matched dollar of dollar by the Mary Pappas (up to $10,000) This money will be used towads completing any unsponsored pieces or to offset any expenses. This means tht if you sponsor a Saint at $4,500, the campaign generates an additonal $4,500 dollars for other pieces.

*It also means that any general contribution of ANY amount to the campaign will also be doubled and used to finish out the projects. So even if you cannot sponsor a specific piece, please make a donation towards the campaign as "General Icon Donation" since this will also be matched to help us towards our goal. A table will be set up during coffee hour where you can fill out a pledge for, make a contribution or review the pricing list of available Icons.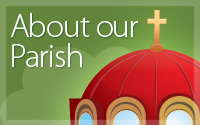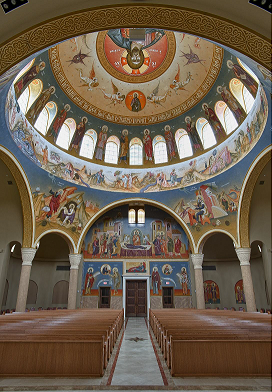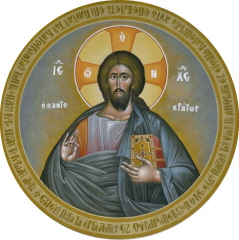 The Adornment Of Our Beautiful Sanctuary